D Day was Tuesday 6th June 1944.
Saturday 3rd June at 5.00.pm. was when it all began, at the farmhouse Of Richard 'Dick' West's 'Stocken Farm'. Whilst having tea a knock came on the door and there stood three gentlemen, Mr. R. M. Kimber, Wycombe Divisional Officer of the Bucks War Agricultural Committee, Mr. G. H. Cox, Waldridge Farm and an Air Ministry Official who said 'We want the centre of your farm for a flying field, the bulldozer will be here within one hour'. So it was, the three gentlemen were unable to let Mr West know of their plans beforehand because of the risk of security leak.
The initial project took forty-five acres of land and the whole area, including two clumps of horse-chestnut trees and a clump of lime trees, were felled and cleared so that the first aircraft took off three days later on Tuesday morning.
The usual procedure was daily flights to an airfield somewhere in Hertfordshire, with a 10.30.am. take off, returning about 1.00.pm; with Air Chief Marshall Sir Arthur Harris, C-in-C Bomber Command, at the controls of his personal aircraft, which was a 'Stinson' high wing mono-plane.
About three weeks after commencement of flying from this airfield, the daily flying routeing was changed from Hertfordshire to France. This was due to the Allied Forces advancing further into France.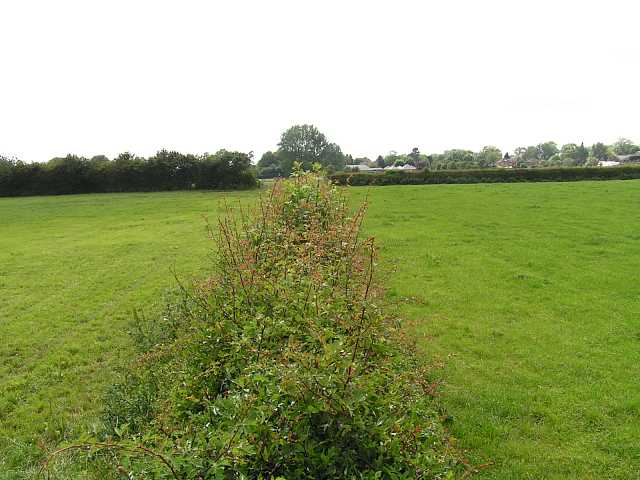 Near the centre of what was the airfield.
The shortage of land forced Mr. West to sell some of his livestock, first fifty breeding ewes and their lambs had to go, although Mr. G. H. Cox of Waldridge Farm kindly loaned Mr. West about twenty-five acres of land.
The next year the Air Ministry decided to increase the size of the airfield to sixty-six acres. This was a further loss of twenty-one acres of land, which this time included the sports field. There was the usual wind stocking and a strip of chalk let into the turf for directional purpose so that aircraft would land into the prevailing westerly wind. The approach was usually over Turnip End – toward Lacey Green School.
The very large oak tree was removed from what was known as the 'Horse Meadow', near Miss. Sampson's house, in Kiln Lane. All these trees, combined, gave enormous shade for livestock and were greatly missed. After some time, flying eased a bit and Mr. West was allowed to graze the airfield, but this meant that every time an aircraft arrived to land, he had to go out and collect his cattle that were grazing.

Former Hangar beside the sports field. Photo from Mr Trevor Stevens. A Blister Hangar was erected which was sited just about where the School swimming pool is now built. The aircraft based at Lacey Green were at least two Taylorcraft Austers powered by 90h.p. Lycoming engines, supposedly capable of taking off in 160 yard run, a Tiger Moth, Miles Messenger, Miles M28, Percival Proctor and a De Haviland 86B Hornet Moth. This aircraft had still got the hooks fitted inside where the original owner hung his golf bags. All these aircraft were privately owned, but commandeered at the commencement of the war.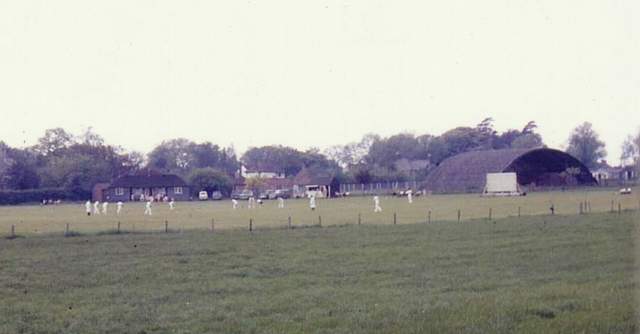 Another view of the former hangar. Photo via Mr David Alworth.

September 1964. Photo via Mr David Alworth.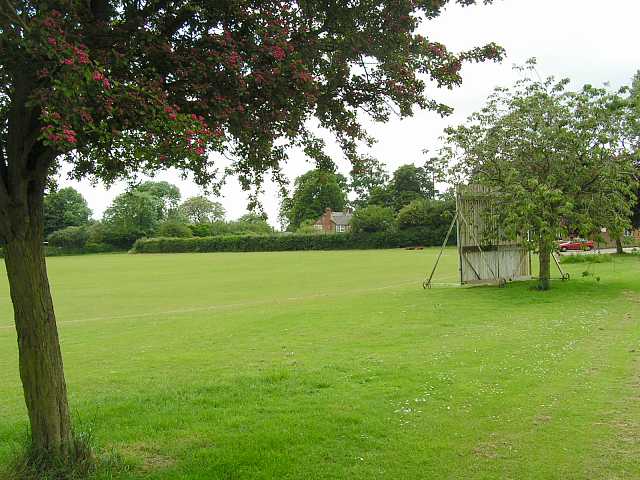 Lacey Green Sports ground.
The entrance to the airfield was and still is to this day, the entrance to Mr. Gordon May's property 'Coolangatta', opposite the Church. Gordon recalls the time when an Auster was taking off and just about to leave the ground when it hit a frozen mole hill with one of its wheels. This tipped the aircraft onto its nose, breaking the propeller, unfortunately the pilot suffered a broken nose.
Gordon was amongst a group of local school lads who were called upon by the R. A. F. mechanics to right the aircraft and push it back across the airfield and into the hangar for repairs. Numerous football matches were played after School, between schoolboys, including myself, and the R.A.F. fitters. Their team was made up of a Flight Sergeant, Sergeant, two Corporals and two Airmen versus a dozen or more of the boys from Lacey Green School.
There were a number of very tall trees in the Churchyard, much taller than the Church, so the Air Ministry took the tops out of them as they were a hazard to aircraft which were sluggish at taking off in a westerly direction. I can recall one rather frightening experience for me when a Lysander taxied round Turnip End turned, began its take off run, throttle wide open, with a might roar it sped toward us. It seemed as if it would never leave the ground!
The late Andrew Oliver flew from Lacey Green airfield two or three times a week. Mr. Oliver, who had an outstanding knowledge of timber technology, upon entry into the R.A.F. was given the rank of Squadron Leader and based at the Royal Aircraft Establishment at Farnborough for a short time, then brought back into civilian occupation under Lord Beaverbrook, the then Minister for Aircraft Production.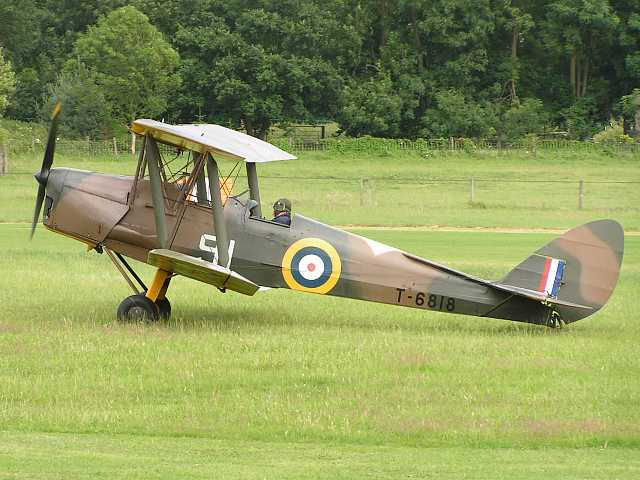 Mr. Oliver was on the Personal Staff of Air Chief Marshall Sir Arthur Harris as a 'British Civilian Expert'. His work was inspecting crashed aircraft, concerning the construction of such aircraft and reporting back any defect concerning the glue and wood fatigue. Known well on the staff of the C-in-C Bomber Command, Mr. Oliver was ordered 'Learn to fly'. The flying instructions being given by the P.A. to Sir Arthur Harris, Wing Commander D. B. Smith.
Six flying lessons were given and from then on he flew solo, having many experiences which he recalled to me just before his death. One in particular was in the De Haviland Hornet Moth, whilst flying from Lacey Green to Waddesdon, over Aylesbury at 2,300 feet, the engine 'died' and he gave a 'Mayday' call and decided to try and glide to Waddesdon. This he almost did, but landed safely in a field just short of the airfield. The cause of engine failure was due to a 'blown head gasket'. Mr. Oliver was one of a team of five men who built the first Mosquito Fighter Bomber, the famous wooden aircraft, powered by two Rolls Royce Merlin engines, which was built at Salisbury Hall.
---