Company Background - By David Goodearl

A canvas goods manufacturing business originally trading as Goodearl Bros has been operating since 1886. During trading covering more than 100 years and over that period they they have been involved in the manufacturing and selling of products other than canvas goods.
George Herbert (listed as gentleman) arrived Sydney in S.S. Garonne on 3rd June 1886 - his fare was £36/15/-. His brother Richard (listed as labourer) arrived at Sydney in S.S. Arabic on 25th December 1886 and his fare was £18/18/- as he was a steerage passenger. Why there was such a big difference between the passages of two brothers is something of a mystery.
The company was originally set up by these two to assemble and distribute furniture manufactured by their family in England. The first shipment received was on 9 July 1886 for 6 cases of goods valued at £40/17/4. The furniture was of high quality, an item that Australia was unready for at that time so it soon became apparent to the brothers that they would not survive without another product.
Bedding was added to the range and they commenced the manufacture of soft filled mattresses, wire mattresses and quilts - for quite some time they were large in this field. Wire mattresses were a coiled spring wire mat which was supported on tension by a wooden frame as a yielding support for the kapok filled mattresses of the day.
Two interesting items came out of their bedding products. After a trip to America by George Goodearl we were the first people to make an inner spring mattress in Australia. Also, one of the employees interested the brothers in kerosene-powered incubators and they manufactured these for a time. His name was Edward Hallstrom. Later a similar power unit in the "Silent Knight" refrigerator was to make Sir Edward Hallstrom famous and wealthy.
A Mr. Hooker was with the company for some time (then called Goodearl Bros and Hooker) and he was the quilt expert. Mr. Hooker left the partnership and joined another gentleman called Chapman to form Hooker Chapman (later Chapmans Ltd). Chapmans became very large in bedding, manchester and canvas goods and were the first company in the canvas manufacturing field to be floated publicly. When they closed in 1972, Goodearl & Bailey took over the canvas section of that operation.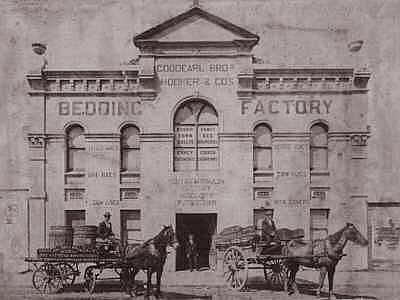 The Petersham Factory circa 1890.
It is not quite clear in what year they commenced canvas goods manufacture, but it would have been before the turn of the century. From a humble beginning the canvas section developed to about the same size as the bedding products, quite large, and Goodearls Pty Ltd seemed assured of a rosy future.
George Herbert was increasing in age and it is apparent that he was looking forward to life in retirement, his brother, Richard, having died 24 years earlier in 1912. Unfortunately, his son George Richard who was being groomed as the next proprietor, also died in 1933 so a manager, Jim Neilson, was promoted from the ranks to take the reins of office.
But Neilson died a short time after being appointed Manager and George Herbert found himself back in the driver's seat. After the last of the founders died in 1945, Ralph Hamilton Huthnance was promoted from the ranks to manage and develop the business. But in the post World War II period they had problems with obtaining stocks and declining sales - mishap seemed to follow mishap.
At this stage the company was owned by Annie Mabel Goodearl, Clarice Goodearl (both daughters of George Herbert) and Jessie Roslyn Goodearl (the wife of George Richard).
In 1957 a Director's meeting was held in the Kent Street, Sydney factory at which Ralph Huthnance resigned and the directors planned to wind up the business. Whilst they had had a series of bad losses, there were still sufficient assets to cover liabilities. On a suggestion from Colin Gray (their accountant from Smith Johnson & Co - now KPMG) the Goodearl ladies decided to transfer their shares in that which was left to David Goodearl & Gordon Bailey both of whom worked in the business but who were only 25 and 30 respectively.
The bedding section that was sustaining big losses was closed, the Kent Street, Sydney, property sold to settle the overdraft and the factory moved to Mascot. From this initially scaled down operation, the business expanded largely through the company's efforts together with the acquisition of Chapmans, Smith Copeland and much later, a part of the canvas section of E. H. Brett & Sons.
The name of the company was changed to Goodearl & Bailey Pty Ltd in 1972 not only reflecting the names of the owners at that stage but in grateful recognition of Mr. Gordon Bailey's service and efforts over more than 30 years. They traded most profitably for over 40 years until Gordon Bailey and David Goodearl retired in 1995.
At that time the trading section of the business was equally transferred to Michael Duggan and Richard Goodearl. The older owners took the real estate and formed a company Goodearl & Bailey (Investments) Pty Ltd the new owners were given the stock and plant. The trading company occupied the same buildings and paid rent to the investment company.
It was hoped that Michael Duggan (who was the manager of the canvas section of Chapmans and who was with the company since its acquisition in 1972) and Richard Goodearl (great-grandson of the founder employed since 1982) would enjoy many years of fruitful trading. Richard made the fourth generation of the family to be actively involved and very few private companies last past a third generation. That which Bailey & Goodearl hoped would transpire failed to do so and huge changes took place making it necessary to alter the company structure.
In the year 2000 Richard Goodearl and Michael Duggan found it impossible to maintain a harmonious working relationship so the company was divided with Michael Duggan taking the piece goods sales part and Richard Goodearl taking the manufacturing section. Many traditional lines of business were discontinued. The direct selling part was passed on to existing customers to concentrate on wholesaling awnings only. Smith Copeland & Co and Design Awnings were disposed of to capitalise on their established names.
Duggan moved his section to Tenterden Street, Botany and continued trading under the old name (Goodearl & Bailey Pty Ltd) whilst Goodearl remained in the existing premises trading as Goodearl Fabric Systems Pty Ltd in partnership with his brother-in-law Lorenzo Lucia.
This history, written after the split up on 1st January 2001, is left without conclusion. It has been compiled for any "Goodearl" who may be interested to find out how their Australian cousins are faring or any reader with sufficient interest to finish the article. It is felt that this is not the end of the history of canvas and Goodearl in Australia and that great-grandchildren of the present elder generation will be able to add to the story.

Visit the Goodearl Fabric Systems Pty Ltd. Home Page in Australia.